Dynamis – Jueno
Time extentions in Neo-Dynamis serve a dual function. They are used to get more time of course, but they are also used to allow you to proc and the ability to proc becomes easier with more than one time extention as well as adds certain bonuses to your procs. The following is how this works:


0-2 TE's = No procing, no bonuses of course either

3 TE's = Low proc rate / Blue - Potentially transient Amnesia, or nothing.

4 TE's = Medium proc rate / Yellow - Terror/Stops 2-Hour/Able to Re-use 2-Hour

5 TE's = High proc rate / Red - Terror/Stops 2-Hour/Unable to Re-use 2-Hour

Time Extention Map
TE-2 and TE-5 wander around the areas indicated in blue. TE-5 is located on the upper floor not the lower (best to have pet job get it).
Magic Proc Monsters


Vanguard Alchemist (whm)

Vanguard Enchanter (rdm)

Vanguard Maestro (brd)

Vanguard Necromancer (smn)

Vanguard Shaman (blm)

WS Proc Monsters


Vanguard Ronin (sam)

Vanguard Smithy (war)

Vanguard Tinkerer (drk)

Vanguard Dragontamer (drg)

Vanguard Armorer (pld)

Ability Proc Monsters


Vanguard Ambusher (rng)

Vanguard Hitman (nin)

Vanguard Pathfinder (bst)

Vanguard Pitfighter (mnk)

Vanguard Welldigger (thf)

Dynamis Jeuno Tomes Map: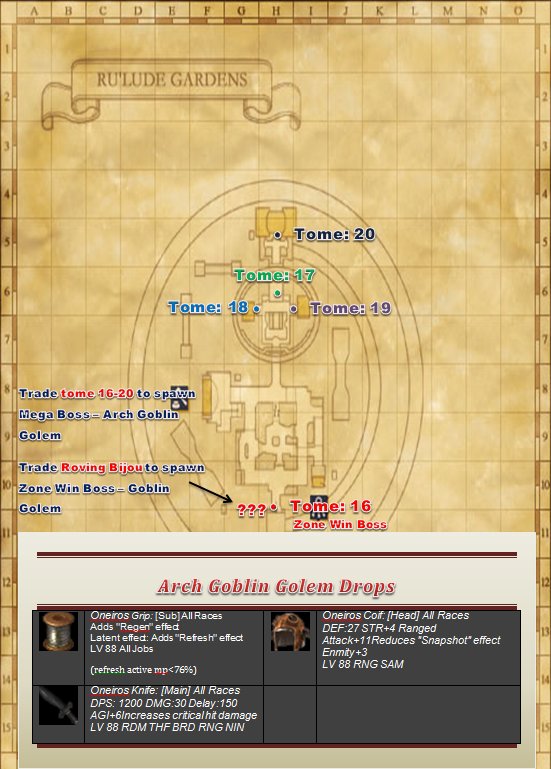 .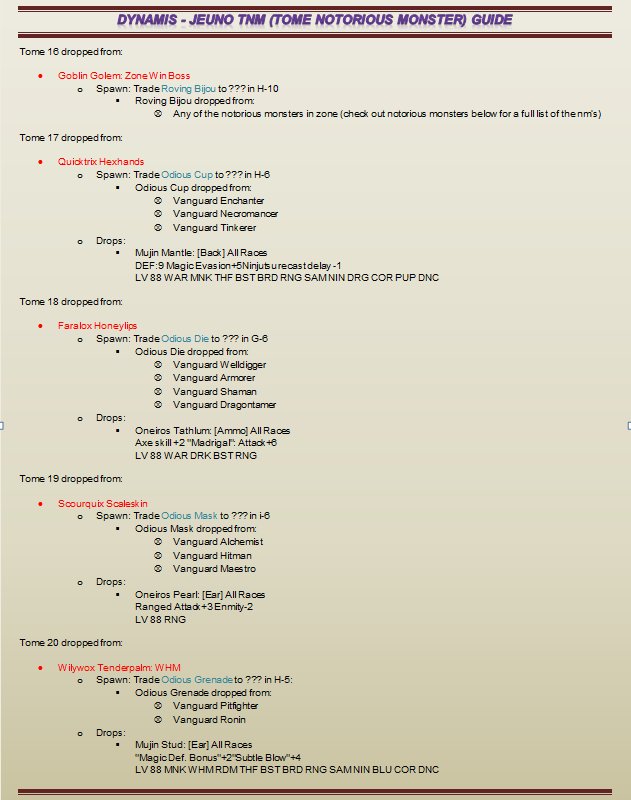 Notorious Monsters




Anvilix Sootwrists



Bandrix Rockjaw



Blazox Boneybod



Bootrix Jaggedelbow



Buffrix Eargone



Cloktix Longnail



Distilix Stickytoes



Elixmix Hooknose



Eremix Snottynostril



Gabblox Magpietongue



Hermitrix Toothrot



Humnox Drumbelly



Jabbrox Grannyguise



Jabkix Pigeonpecs



Karashix Swollenskull



Kikklix Longlegs



Lurklox Dhalmelneck



Mobpix Mucousmouth



Morgmox Moldnoggin



Mortilox Wartpaws



Prowlox Barrelbelly



Rutrix Hamgams



Scruffix Shaggychest



Slystix Megapeepers



Smeltix Thickhide



Snypestix Eaglebeak



Sparkspox Sweatbrow



Ticktox Beadyeyes



Trailblix Goatmug



Tufflix Loglimbs



Tymexox Ninefingers



Wasabix Callusdigit

Wyrmwix Snakespecs